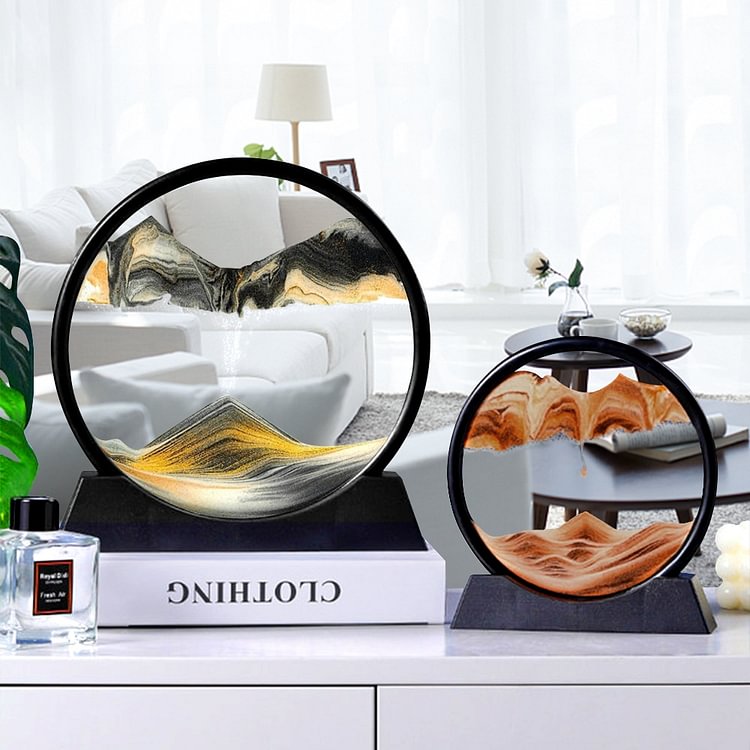 Origin: CN(Origin)
Theme: LANDSCAPE
Style: feng shui
Material: Glass
moving sand frame: art home decor
moving sand art: sea decor for home
decor home: sand glass pictur
home decor: art decoration
decor for home: wall art decor
pattern for decor: decor design home
sand: sand art
sea glass: sand art glass
Features:
Smooth movement of sand relieves stress, relaxes your eyes and increases patience.
Each flip can produce a completely non-repetitive dynamic painting.
It is conducive to the development of intelligence and improve mood.
The glass frame is crystal clear and luxurious.
The inner frame of the plastic has a strong concave and convex feel.
Suitable for living room and bedroom decoration.
Acrylic base: Acrylic material is delicate and thick and can be placed anywhere, such as hotels, restaurants, bars, dance halls, bedrooms, offices and study rooms.

The combined flow of liquid allows each turn to flow smoothly.
It is picked up on the table, rotated, and placed horizontally like a photo frame.
Watch the mountains, valleys and dunes that form in front of your eyes!

specification:
Material: glass, acrylic, quicksand
Note:
If there are few air bubbles, please let the quicksand stand still to the bottom, the air bubbles are on the top, and then shake, it will generate more small air bubbles, and it will flow more slowly.
If you want the quicksand to be slower, you can use a syringe to inject air into it, so that it has more bubbles, so that the quicksand will flow more slowly.
18W and 15W quicksand require conversion connectors, please contact us, thank you.

Package Included:
1 x quicksand painting
Name: 3D Rotatable Quicksand Table Lamp
Light source: LED
Working voltage: EU/220V US/110V
Wattage: 18W
Light color: White, warm white, natural white three colors can be switched
About this item
【NIGHT LIGHT】Moving Sand Art Sandscape with LED,Using high-transmittance acrylic lampshade, selected acrylic material, uniform light emission, no flicker, flexible light, can protect the eyes.Each sand painting has a good feel and ultra-thin thickness, giving the fingers a free and happy experience
【EXQUISITE SANDSCAPE PICTURE】The exquisite moving sand art present a attractive landscape view to you, which gives you a relaxing and peace sense in the impetuous days, its flow sand makes this paint vivid and lifelike
【HIGH QUALITY MATERIAL】This one Quicksand painting ornament is made of high quality glass+frame; Lead-free high transparency glass as clear crystal as the water drop, 360° Rotate, allows you to fully enjoy the beauty of quicksand.
【PRODUCT FETURES】Relaxing Dyamic Sand Picture, Every time you turn the Dynamic Sand Picture Frame, you get a different image. Looking at the falling sand and the changing different landscape scenes, you will feel particularly calm and relaxed!
【APPLICATION】Home or office table decor, birthday or holiday gifts for friends or families, the gift shows its unique temperament, people will love this exquisite artware
It is not only a lamp, but also a natural artwork. The perfect home decoration table lamp.
★Specifications:
Name: 3D Rotatable Quicksand Table Lamp
Light source: LED
Working voltage: EU/220V US/110V
Wattage: 15W
Light color: warm yellow light/natural light/white light
Material: Iron lamp body+PMMA, glass, colored sand
Scope of application: living room, bedroom, hotel, etc.
Product size: The diameter of the lampshade is 256mm/10.08in, and the height is 283mm/13.14in
Packing list: 1*3D quicksand table lamp

1★ Quicksand design: The modern LED desk lamp is composed of iron art lamp body and colored sand. It has a 3D sand painting design. Whenever the ever-changing, the quicksand falls slowly like a waterfall and flying sand. The mountains, ocean and other scenery are slowly formed, which is pleasing to the eye.
2★ Eye protection: Environmental protection materials and LED soft light bulbs are used to protect your eyes, bringing you a peaceful and warm home. The light emitted by the lamp is soft enough to constitute an effective night light.
3★ Material: Quicksand table lamp adopts high quality PMMA lampshade, the light is even and soft. The hardware paint lamp body is made of high temperature paint, which is rust-proof, anti-corrosion and durable.

Packing list
Packing list: 1*3D quicksand table lamp